City of Chaffee and Union Park Cemetery Board is seeking bids for mowing of the Chaffee Union Park Cemetery.
The City of Chaffee and Union Park Cemetery Board is seeking bids for mowing of the Chaffee Union Park Cemetery located East of Chaffee on RT A, consisting of 6.9 acres. The City of Chaffee reserves the right to reject any and all bids and rebid at the discretion of the City Council. The Bid will be awarded based on price, references, experience and equipment. Please contact Chaffee City Hall at 573-887-3558 to obtain full bid specifications. Bids should be mailed to Chaffee Union Park Cemetery-Mowing Bid 2021, 222 W. Yoakum, Chaffee, MO 63740. Deadline for bids will be 5:00 PM April 5 2021. Sealed bids will be opened at 7:00 PM on April 05, 2021 at the City Council Meeting.
Bids to reflect a price per mowing and string trimming as outlined below. Mowing height to be 3 inches each cut and string trimming to taper from 0 inches at the foundation edge tapering up to where the riding mower equipment meets the trimmed areas unless otherwise directed by the Cemetery Board. The cemetery is approximately 6.9 acres.
A Certificate of Liabilty Insurance must be provided to the City of Chaffee or named representative prior to April 19, 2021) Mowing will be approximately once per week depending on weather. Cut with the intention of removing about 1/3 of the blade of grass to a height of 3 inches each mowing. String trimming to be accomplished for entire cemetery. This includes trimming around trees, head stones and fences.
3) No mowing to be done while funeral is in progress. Once the family leaves the cemetery mowing & trimming can resume.
4) No mechanical mowing within 3 inches of head stones, only string trimming allowed close to head stones. No use of chemical "trimming" is allowed .
5) If any damage is done to any of cemetery property, it is to be reported to the Chaffee Union Park or the City of Chaffee within 12 hours of the incident.
6) Any limbs that fall should be gathered before mowing and placed in the designated area by the Chaffee Union Park dumpster enclosure.
8) Keep stones clean of cut grass.
9) Remove grass clippings if grass is unusually long when mowed.
10) Care will be taken when trimming around headstones and appropriately placed decorations. Notify the Chaffee Union Park Board or the City of Chaffee of gravesites that do not comply with posted Rules and Regulations.
11) Cemetery should be mowed shortly before Memorial Day so that it has a well kept appearance on Memorial Day.
12) Flowers that are no longer fresh and flowers & decorations that are not near head stones caused by storms or strong winds shall be gathered and placed in the designated area by the Chaffee Union Park Township Shed.
13) If people plant anything for decoration notify the Chaffee Union Park City of Chaffee as it is not allowed.
15) If Successful Bidder does not comply with these specifications during 2021 mowing season, the Chaffee Union Park Board and the City of Chaffee will give them a written complaint that must be answered within 3 business days of receipt. If complaint is not resolved satisfactorily Successful Bidder could be terminated from the rest of the season.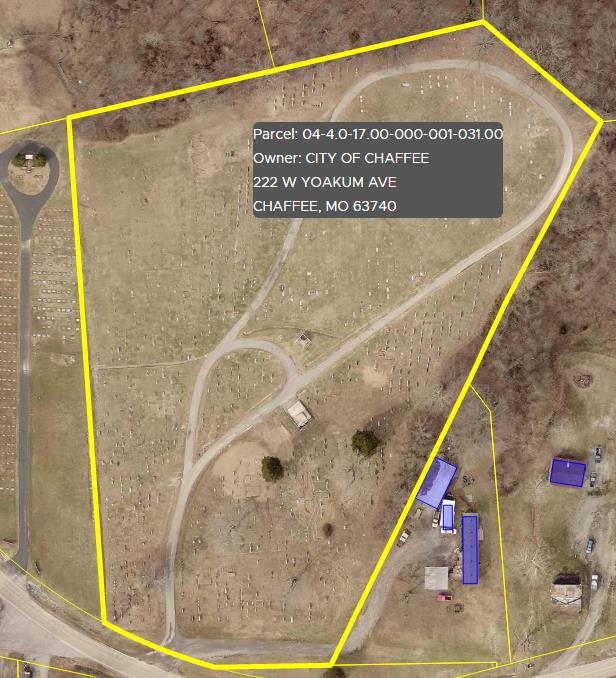 Lawn Care Contract Specifications
Mowing: The single most damaging lawn cutting activity in cemeteries is to headstones and markers. It is critical that lawn Care is done in a manner that protects the headstones, markers, monuments, shrubs, trees and fencing, and should be done with great care.
Areas to include:
* Begin mowing grass as soon as it becomes needed. Mowing heights to be maintained at 3 inches and avoid excessive clippings and wind rows.
* Contractor shall be responsible for removing grass clipping from headstones, markers, sidewalks, and drives. Mulching blades and or shields that direct the grass clipping into the ground is required.
* It should be understood that mowing is not expected each week, only depending on the growth of the grass. We do however expect that the cemetery looks cared for at all times. Especially Memorial Day Weekend when families visit the graves of their loved ones.
* Fallen branches, sticks and brush can be moved near dumpster.
* Trash in cemetery and bank should be picked up and put in Trash Containers provided.
(Please Do Not Mow over Trash)
Note: All equipment tools and rubbish collected by work of any kind must be cleaned up and removed by the parties employed on that work at end of day, and the grounds left in good order. All work must be done during the working hours of the Cemetery; Sunup to Sundown.
Union Park Cemetery – Mowing Bids 2021
Bidder Name: ___________________________________________________________________
Address: ______________________________________________________________________
City, State & Zip: ________________________________________________________________
Phone Number:
Email:
List Cemetery Mowing Experience and References that the City of Chaffee may call:
Bidder's Price per mowing as detailed above:
OPTIONAL:
Bidders price for cemetery cleanup twice a year (removal of flowers and items on gravesites):
____________________________________________________________________